Unbeatable Prices - Buy Direct from Manufacturer
Exceptional Quality - Easy to Apply & Won't Fall Off
Fully Customisable - No More Hand Writing
FREE* & Fast Delivery - Dispatched Same Day*
KYORITSU Portable Appliance Testers
Kyoritsu are a Japanese manufacturer & have long been regarded for their high quality testing equipment.
Kyoritsu are best known for their 6201 & 6201A appliance testers.
Kyoritsu have a limited range of appliance testers but have a very extensive range of more specialist instruments.
Kyoritsu
Kyoritsu 6201A

$909.00
The Kyoritsu 6201is a high quality, high specification portable appliance tester with auto test sequenc...
More Info
6201A Starter Pack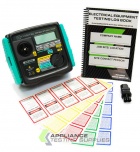 $955.00
This package deal includes all the necessary equipment you need to get started on your Test and Tagging...
More Info
Kyoritsu 6141 Kit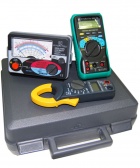 $909.00
A complete specialised testing solution.
More Info