Unbeatable Prices - Buy Direct from Manufacturer
Exceptional Quality - Easy to Apply & Won't Fall Off
Fully Customisable - No More Hand Writing
FREE* & Fast Delivery - Dispatched Same Day*
RCD Testers
Testing of Portable RCD's (Residual Current Devices) commonly known as Safety Switches is a requirement of Australian Standard 3760. Some of the Appliance Testers in our range will test these RCD's. If you have a tester that does not have this functionality, you can use one of these "stand alone" testers specifically designed for the job.
RCD Testers
PATRCD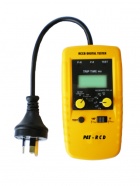 $136.00
The Portable RCD compact tester has all the functionality you would expect from a high end test instrum...
More Info
RCD & Isolation Kit

$271.81
If you need to test portable RCDs (Residual Current Devices) then our RCD & Isolation Kit is the best s...
More Info
SEW RCD Tester

$327.22
The Seaward SEW 4112EL RCD Tester is an excellent entry level RCD Portable Appliance Tester packed with...
More Info
Kyoritsu 5406A RCD Tester

$895.45
The Kyoritsu 5406A RCD Tester will cover all your single phase RCD needs.
More Info
Wavecom Isolation Transformer

$227.00
The Most Advanced Isolation Transformer unit on the Market. Essential for RCD Testing.
More Info