Unbeatable Prices - Buy Direct from Manufacturer
Exceptional Quality - Easy to Apply & Won't Fall Off
Fully Customisable - No More Hand Writing
FREE* & Fast Delivery - Dispatched Same Day*
Testing & Tagging Accessories
Tags Direct have a complete range of accessories to compliment your testing & tagging equipment.
Testing & Tagging Accessories
Isolation Transformer

$227.00
The isolation transformer ensures that in the fixed RCD in the switchboard won't trip in the event of t...
More Info
Hard Bodied Transit Case

$99.00
This lightweight and hard bodied carry case is an ideal solution for the transport and storage of your ...
More Info
IEC Adaptor to Figure 8

$35.00
This Figure 8 shaped adaptor to IEC socket is excellent for power leads for multiple appliances.
More Info
IEC Adaptor to Clover

$35.00
This Clover leaf shaped adaptor to IEC socket is excellent for testing computer power leads.
More Info
Insulation Cloak

$169.00
Constructed from Stainless Steel mesh, this insulation cloak is designed for use when testing Class II ...
More Info
Tag Remover

$9.10
This little gadget will make removing your Test and Tag labels simple, safe and easy.
More Info
Marking Pen

$3.50
The marking pen is specially formulated for use with Synthetic materials. It is UV stable & ideal for m...
More Info
USB Barcode Scanner

$131.81
The USB CCD Barcode scanner is low cost solution for asset tracking and management and is compatible wi...
More Info
Best Practices Manual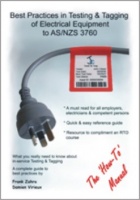 $109.00
The Best Practices Manual is a very comprehensive resource on all aspects of portable appliance testing...
More Info
Electrical Log Book
$15.00
Using a Log Book allows you to manually write test results and is a quick & easy solution to record kee...
More Info
Flexible Keyboard

$40.86
The flexible keyboard is ideal for your data entry Portable Appliance Testers and with it being made of...
More Info