Unbeatable Prices - Buy Direct from Manufacturer
Exceptional Quality - Easy to Apply & Won't Fall Off
Fully Customisable - No More Hand Writing
FREE* & Fast Delivery - Dispatched Same Day*
SEAWARD Portable Appliance Testers
Seaward are a UK manufacturer & have a very extensive range of portable appliance testing equipment.
Seaward are the UK's biggest supplier of appliance testers & have been supplying product modified for the Australian Standards for over a decade.
Seaward have entry level testers such as the PAC3760 and also high range packages that come with Bluetooth connectivity and a printer.
The Seaward range is perhaps the most comprehensive range of appliance testers in the world.
Seaward
Primetest 125 EL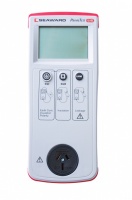 $740.00
The battery operated Seaward Primetest 125 Portable Appliance Tester is new to the Australian market th...
More Info
PAC3760 DL
$1,190.00
Seaward PAC3760 is the next generation of Portable Appliance Testers conducting all tests which are req...
More Info
PAC3760 DL Starter Pack

$1,270.00
This very affordable appliance tester will test to the Australian Standard 3760 along with testing your...
More Info
Primetest 300

$2,420.00
The Seaward Primetest 300 is "the all singing and all dancing appliance tester". It is fully programmab...
More Info
Pro Print Kit

$4,120.00
Seaward Primetest 300 PRO Print Kit is a down-graded version of the current PROTAG OPTIMA kit System. ...
More Info