Unbeatable Prices - Buy Direct from Manufacturer
Exceptional Quality - Easy to Apply & Won't Fall Off
Fully Customisable - No More Hand Writing
FREE* & Fast Delivery - Dispatched Same Day*
WAVECOM INSTRUMENTS Portable Appliance Testers
Wavecom are Australia's largest manufacturer of portable appliance testing equipment.
No other Australian manufacturer comes close to the extensive range that Wavecom offer.
From the basic TNT el right up to the TNT+M Print Pack, Wavecom manufacture a unit for every budget & offer a wide range of features to suit your needs.
Wavecom also supply other test & measurement devices but are best known in Australia for their great range of appliance testers.
Wavecom
TnP-500

$2,980.00
The TnP-500 Print Pack allows you to conduct all tests required under the Standard and print your own T...
More Info
WCM - RCD & ISO Kit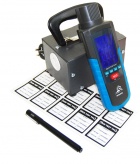 $454.00
If you need to test portable RCDs (Residual Current Devices) this is the best solution for you.
More Info